Team Exciters
Overview- EX series of linear actuators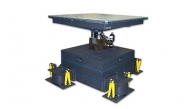 The Team EX Series Actuator is a high performance, versatile and cost effective vibration test system component. EX Series Actuators have been developed specifically for vibration testing and vibration test systems requiring high force, long stroke or high frequency capability. The EX Series Actuator will provide consistent, reliable test results year after year.
EX Series Actuators are all double acting, double ended and hydrostatically lubricated. Team actuators are designed to be stiff both mechanically and hydraulically. This is achieved by using a heavy body cross-section, a large diameter one-piece piston shaft and by keeping the trapped oil volume to a minimum. The actuator piston is internally supported by hydrostatic bearings; a thin film of high-pressure oil. This feature eliminates metal-to-metal contact so bearing life is virtually infinite. To provide position feedback, an LVDT (linear variable displacement transformer) is mounted concentrically in the piston shaft.
The EX Series Actuator is designed to attach to conventional actuator rod end bearings or directly to the Team HydraBall, which provides for zero backlash transmission of force.
Features
Internal LVDT
Hydraulic Cushions
Over 500 Hz. capability
Hydrostatic Bearing Supported Pisto
Fatigue Rated One-Piece Rod & Pisto
Internal Porting-No External Drain Lines
Compatible with Team, Moog and Industrial Servo-valves
Low Pressure Seals (No annual teardown / seal replacement)
Spherical Bearings and Zero-Backlash Hydrostatic End Connections Available
Overview – 50 and 60 series of linear actuators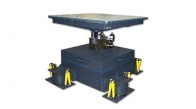 Team Corporation manufactures a variety of actuator types and sizes for varying applications. Our most popular actuators are the 50 and 60 Series of linear actuators with retangular bodies. Available in 2 and 4 inch strokes, the 50 and 60 Series actuators are produced in a range of dynamic force outputs from 2,000 to 50,000 lbf.
Team's 50 and 60 Series actuators have distinguished themselves in hundreds of varying applications under demanding operational conditions. They have demonstrated reliability and high performance in facilities around the world.
Features
One-piece, chrome plated piston rod for high strength and durability
Hydrostatic rod support bearings for accurate, frictionless motion and high moment capacity
Low pressure, low maintenance rod seals reduce maintenance and downtime
Integral dashpots prevent damage to the actuator due to sudden stops
Built-in LVDT displacement transducer
Rectangular body mountable in either horizontal or vertical orientation for flexible applications.
Team Hydraulic Power Supplies
Overview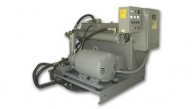 Team Corporation manufactures a variety of Hydraulic Power Supplies for use in vibration test systems and other high-precision servo systems. The selection of the HPS is based largely on the selection of the servovalve. The HPS and servovalve are selected to provide the desired velocity. In addition, Team HPS's are remotely controlled and monitored using the Team 1510 Hydraulic Pump Controller.
Features
Built-in heat exchangers with water saving valves
High and low flow modes for safe start-up
Filtration to keep the oil in the ISO 15/13/10 condition required for servosystems
Health monitoring sensors including oil temperature and level, pressure and filter condition.
Applications
Hydraulic power supplies for vibration test systems and other precision servo systems.