T8 & V8 hydrostatic bearings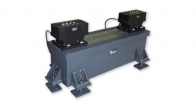 The V-8 and T-8 Hydrostatic Bearings are Team's most popular stand-alone bearing. These bearings can be used with electro-dynamic and servo-hydraulic shakers having as much as 2 inches of stroke.

Each bearing can carry as much as 10,000 lbs of vertical, so most test packages can be accommodated with 4 or 6 bearings.
The V-8 and T-8 are easy to use and require little maintenance. The base of each bearing features an "air pad" to facilitate movement and alignment of the bearings. A filter on the inlet line assures that only clean oil reaches the bearing.
Team spherical couplings
Overview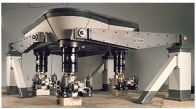 The TEAM Hydrostatic Spherical Coupling transmit s tensile and compressive forces while allowing angular misalignment.

The Spherical Coupling finds applications in multi axis vibration, structural fatigue testing, and any situation where angular movement is required. They connect the vibration system (Hydraulic or Electrodynamic) to the table/test article, protecting the vibration system from damage due to misalignment or angular motion of the table/test article.
Single and Double pivot couplings are available, and with 0.5 degree and 6 degree configurations. The double pivot couplings allow for angular and lateral misalignment. The spherical surfaces are hydrostatically lubricated for extremely high stiffness, no backlash, and infinite life. These couplings have excellent transmissibility to above 2000 Hz.
Features
Direct Load Path
Eliminates Backlash
Eliminates Friction
Easy to Install
Offers flexibility on Installation
Low Maintenance, Long Life Product
Hydraball Team
Overview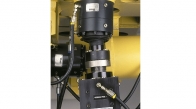 The Team HydraBall provides a zero backlash, zero friction, direct load path coupling. A low noise, cost effective replacement to conventional rod ends. The HydraBall is a hydrostatic bearing, oil supported ball joint with non-contacting surfaces. Using the HydraBall instead of rod ends saves time as no greasing or adjustment is required as well as improving your tests.
With HydraBall there is no pin in shear or bending and offers a very stiff connection in a smaller package. Oil flow can be tapped off your existing oil supply, the unit requires a small 0.2 gpm of oil at 3000 psi and there are no high-pressure seals to wear out and cause friction and invalidate the test.
Features
Direct Load Path
Eliminates Backlash
Eliminates Friction
Easy to Install
Offers flexibility on Installation
Low Maintenance, Long Life Product